RIDE OF SMILES - THE PROJECT
Update September 30th 2016


The Ride-of-Smiles made it back to the safe haven in Germany after 56.000 GS-Kilometers - and now comes back from celebrating with 60 supporting friends and family from the Ride-of-Smiles-Party at 1550 m altitud in the Bavarian Alps.
Friends joining us from Ucraine to Switzerland. From Berlin to Hamburg , from east to west and north to south in Germany. What a venue, what a crowd, what a band .

And best of all we even bring back more donations from the mountains - including 915 € from our friend Joergs incredible MZ-Adventure all over the roads of Germany and 1500 € all together.



 THANK YOU ALL FOR INCREDIBLE 49157 € OF DONATIONS UP TO NOW !
There ain´t no THANK YOU big enough for everybody who suppported and helped along all the tough riding times out on the road.

It was your support and your smiles who kept the charityproject going when times got rough.
And it was my pleasure  now to bring that smile all back to you - and to celebrate what we have achieved all together - as much as sharing  some of  all the intense and quite often extreme experiences between snow, bushfires, deserts and hurricanes from Canada to the Australian outback - at least with those of you I could invite  to the Ride-of-Smiles-Party from the 23- 25 th of September.


Eeverybody who helped along - even if you could not be with us for long distance travelling or simply time reasons. You were with us for all you did to help others !!


It was an incredibly intense experience to have shared all this with you and the world - far away from only being easy - but intense and magic at all times




Thank you all to those who know they deserve it  from the bottom of my heart

BABA

Be the change, you want to see in this world 

Mahatma Gandhi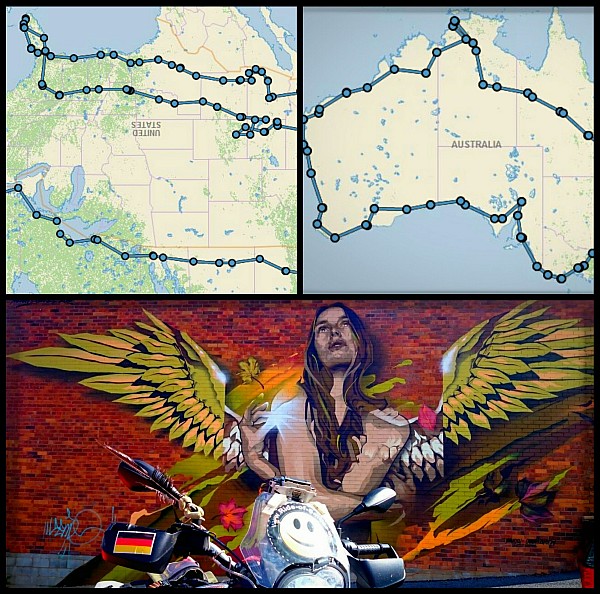 For technical limitation in Google Maps we cannot display and load the whole GPS-Tarck here, but have to limit it to the last week.
To see all progress please refer to this website and allow some loading time please
With a little help from my friends - about bikers, gardeners, delays and why real friends make the difference :-) Ride-of-Smiles trifft New York - warum aus Bikern Gärtnern werden - und ohne Freunde garnichts geht
2015-05-15
Having prepared the Ride-of-Smiles for more than 2 1/2 years the scheduling for transport and delivery was supposed an easy running issue with no expected delay. For whatever reason at one stage this arrival planned prior to the 1st of May 2015 got really stuck and delayed in various issues. To cut a long story short - with many helping hands along the way the bike will be up for definite take off into the Ride-of-Smiles charity ride for the poor peoople and the children of this world.
No matter where. No matter what colour skin, race, believe or handicap. A smile belongs to every heart in the world. That is what we are all up to.
And if I say all, I mean all. The Ride-of-smiles-team in the meantime involves more and more people and friends catching up with the idea all around the globe.
Me sitting stuck here in New York City pretty much for more than 2 weeks with no real idea , whether and when the Ride of smiles would ever take on, at times felt pretty desperate about the delay and all that comes with it. Yet so many of you really kept me going and motivated , supporting with little messages , calls , emails and positive thoughts along the sitting time. This was putting up a story of its own.
And the Ride-of-smiles is by far more than just another bikeride - which would be brilliant as a such. It is about meeting people. Listening to and learning from, maybe telling some of their their stories here. With love and understanding for the people.Not out to change the world. But to share .
So out of many more I would like to bring you closer to some of these stories. Meeting these people because I got stuck. And being impressed as much as one can be, how people cope with life . And what we all my learn from that.
So the Ride-of-Smiles does not want to focus on just a lonesome hero riding his bike around the world. It is about bikeriding too. But just as much on attracting your attention to those , who maybe have to live it the harder way. Hopefully inspiring. Maybe disturbing at times. Always trying to get in touch. Looked at with a positive and trusting heart. Believing in the change , we can make. Once we go for it.
I guess , there could have been no better place to get stuck as in my dearest friends place with Jenny & Joe Rosenberg and their family . Planned to spend  3 days they would not hesitate a single second, to join me into their family for almost 3 weeks. Not just that they made their house a home for me. They really cared for absolutely everything and more , that I could have imagined.
What a story it is to the world, when we first met travelling Alaska- and returned as soulmates to meet again in New York City in 2008, where they would have my best mate Volker and for the first time . As openhearted as a human can be. with an open house for everyone , that has a heart himself. As Jewish-Christian family sharing such a peaceful live with themselves and others, that all politicians, radicals and knowbetters just should have a look at. 
SHALOM  is put up at their entry door. In the words true meaning.
So what again could a biker do to at least give a little back to these wonderful people besides cleaning dishes and do some minor things around. 
That is , when bikers become gardeners ;-)
It was right these days , that their house was about to be connected to a modern gasfurnace instead of an old style oil one  ways more efficient and clean (Buderus from Germany  by the way;-) ) .
For that their garden had been pretty much digged up for installing a underground gaspipeline .
All that had to go back under grass - -alltogether the length of a small soccerfield about 90 m.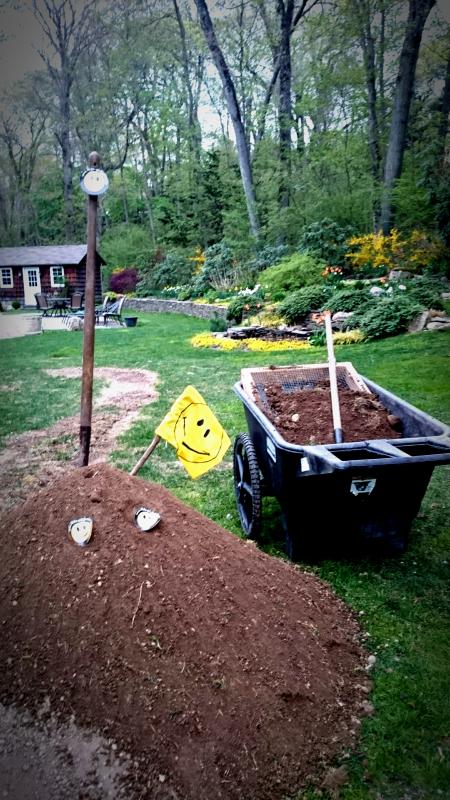 So when Jenny started battling with the rocky underground to put that back on , I felt like my time had come to bring things a bit bit back from my side. While she was off for a couple of days in Florida to care about her father-in-law, I got all tools I needed from the garage,  redigged, filtered all the stones and rocks twice and put all the soil neatly back in place , watered and "fertilized" it all and gave her a big smile once she got back home and had the job done.
 It was a pleasure and at the same time a brilliant way to exercise myself rather than getting desperate about waiting for the bike. And when at one stage of my garden work I thought about the situation " a german doctor is doing the gardenwork in a jewish lawyers estate in New York" - should that be special , looking at either sides history of our ancestors in the past ?
NO. It was just normal. As normal, as in 2010 , when we spend a challenging weekend in Germany with their daughter Alana. Then we visted the Concentrationcamp of Dachau for to understand  the historical background of what happened to Jewish people in WW II and before. Only to put that into the most extreme contrast by visiting the castle of Bavarins´Mad King Ludwig II. in Neuschwanstein, that showed itself as a postcard beauty the next day. 
There is lots to make friends and family alike special people in someones life. The Rosenberg-Family would neither talk on friendship nor hospitality. Neither on tolerance nor on respect to others , regardless of who they are . They would just live it from the bottoms of their heart.  
This is a very personal and emotional moment to start my bike for the Ride-of-Smiles from your house . Where we ended the Ride-of-Change in 2008. And it is definitely the best start ever the Ride-of Smiles could get. A story of its own. Writtten by travelling on a motorcycle. As Joe put it :
" If you had not been that different as bikers then in Alaska - most likely we would not have met you." Sa easy as that- another bikers´story. 
SHALOM my friends - may peace of mind  always be with you and your loved ones - and my you always be as guarded and protected as you donated it to me . Thank you for ALL you did to me.
But all this would not be complete without the stories and encounters, that came from Joe taking me out to show me his personal New York. Away from the beaten track via Times square to Central Park and back from MOMA to Wallstreet. Nothing wrong with that. Had  that all the other day and very much enjoyed it too. Seeing places like Joe took me to made up for a different look at this vibrant place  in the Big Apple.
Going through this city - with all its different neigbourhoods. From black african to hispanic, from white to orthodox  jewisch, from islamic to chritian culture, from chinese to indian or asian origin. From gay and queer to russian or italian. From irish to german. From mexican to native Indian. From Puerto Rico to Hawaii and Alaskans. From democrate to republican. From liberal to conservative. From superrich to the homeless. From healthy to mentally ill. Put all that together with all languages, smells, food and music you can imagine . Add the thriving sounds and voices from the New York subway.
And call it all New York. Where immigration was giving birth to a nation, that despite all challenges never lost two things : Its hope and its believe, that anything can change to the better.
Talking about the mentally ill we ran into another story, that hardly anybody can stand without a tear in his eye. Along Jones beach on our way to Fire island lighthouse we ran into the NAMI Charity run for mentally disabled people in the USA. Hundreds and hundreds of people from all over the state walked upon us . Wearing either stickers or banners to contribute , donate and share for the interest of mentally ill people. Joined by musicians and various artists basically everybody was out to help along with it.
Read more about NAMI here : https://securewalks.nami.org/registrant/LocationHome.aspx?eventid=157231&langpref=en-CA&locationID=160727&Referrer=http:%2f%2fnamiwalks.org%2fcontent%2fhome
I was then noticed for my photography and approached by a wonderful and friendly family , if I could take a picture of them, which I happily did.  Thus we got into a talk , where a very intense history came from. that killed a loving and caring father, a brother and a brother in law as much as an uncle and a husban only in December 2014 . Shot by a police officer. Without any blame on anybody , they would tell me their story about what happened. Not what the media would have published then for making headlines.
By the end it was and is a tragedy of a mentally ill person. Off his medical treatment. A man that suffered from a bipolar disorder in his soul. Replacing his mediacal treatment by smoking marihuana. Getting out of tune of his life and hence attacking  a person seriously with a knife in a NYC synagogue. When the police was called in to the scene he was armed with nothing else than a knife. Surrounding people in the synagogue kept  pledding on him, to put the knife down. Police on firearms demands him fiercely to do so too. When  to the end he puts the knife down and the policeofficer gets on to him to put him into handcuffs, the situation reescalates again. 
And he gets shot - with all that on a video footage visible on the internet. It cannot be seen  what happpened. And this is not written to blame any of the policeofficers. Neither did his family , when they told me the stories. It is simply not visable what happened.  A good approach to find out some of the trueth behind can be found here  
mobile.nytimes.com/2014/12/11/nyregion/man-showed-signs-of-trouble-leading-up-to-synagogue-attack-relatives-say.html?_r=0&referrer=
Whatever it was - he was a loving father to his kids and husband to his wife. A good freind to many others. A policeofficer felt himself in deep enough  despair to shoot him. All because he was mentally ill and off treatment. To improve the situation of the mentally ill and avoid tragedies like this in the future , hundreds and thousands stepped out for the NAMI -Walk. 
Showing New York cares . Showing their way to make the world smile again despite of all tragedy. The way his family coped and reacted to all this , very much raised my respect . You are very special ! Keep going your own way with it - and keep in touch please
Up the next day Coney Island. Where New Yorkers go as much for Rollin Rollercoaster fun as Nathanś Frankfurters and Hotdogs since 1916. Meeting travelling artists ShaKimono and her musical companion GipsySun. With the brightest colours arising from her inspired artwork the two would have filled a storybook of their own.  As would have many of the relaxed people on the boardwalk enjoiyng warm and early summer sun with an atlantic seabreeze. That is when anybody in Brooklyn puts a smile in their face - the New York Smile - best seen at ShaKimonos work which you can find out more on here
All this to end the New York Ride-of-Smiles with the scenic lighthouse at Fire Island . Where a very warmhearted and narrative Park warden in his seventies would tell us about how this lighthouse gave the first light and hope to thousands and more thousands of immigrnats during the high peak immigration time in the 19th century. It was then that this ligt shone for those who hopelessly and despaired left their homes, their families and their miserable lifes in Europe - in hope for a better future.
Nothing much different , than what refugees from Syria or Africe do , when they cross the mediterranean sea in hope for a better life in Euope. Where Europe for moneyreasons stepped back and leaves these poorest of the poor on rotten ships to their destiny. Thousands of people drowning while we just WATCH IT !  IMaybe Europe should pretty soon walk away from their fears of being overrun by refugees - and look at the success story, the US and especially New York City create every single day from people migrating into the country . 
If you allow them to work hard and give them a chance for a better life.
There would be so many more stories to be told from this unique city and its people. But now it is riding time for the Ride-of-Smiles. Getting back to the road where it belongs and itś meant to be.
heading towards the people and their stories. As much as to new biker adventures aon the road.
We hope you can enjoy them both.
Stay tuned please - we´ll be back here soon. If offline follow the tweets  to the left and more news at BMW Motorrads facebooksite alongside with the route .
Next heading will be out of New York all the way up to Nuova Scotia . From there turning west direction Toronto and Niagara Falls...more roadnews to come soon
Keep the rubberside down and happy riding to all of you in 2015 :-)
BABA Henning Ride-of-Smiles May 15th 2015
Der erste Blog ist immer der schwerste - sollte man meinen :-)

 Vor allem dann, wenn man 2 1/2 Jahre Vorbereitung hinter sich hat - und am Ende trotz korrekter und rechtzeitiger Anmeldung aller Transport und Papiergeschichten das Bike nicht aus dem Zoll kommt.

Was immer der Grund dafür  dafü war- wahrscheinlich werden wir es nie erfahren. Das hätte zum ersten Kapitel "dicker Reiseblues" getaugt. Wenn da nicht so viele fantastische Menschen auf jeder Seite des Atlantiks mir immer dann unter die Arme gegriffen hätten, wenn es am nötigsten war.  Freunde und Familie genau dann auch bei sich zu haben, wenn es nicht rund läuft - ein Geschenk des Lebens -  und Euch allen meinen allerherzlichsten Dank für alles aufmunternde in dieser Zeit- es war sehr nötig.

Die Zeitfenster sind gepuffert für alles, was unterwegs passieren kann - von Panne, Defekt bis Streik, Unfall, Erkrankung oder Zahnarzt - aber das 90 Tage Waver-Visum der Amerikaner läuft ohne jede Gnade ab- und geplante 20000 km wollen gefahren werden. Verlängerung ist trotz intensiver Bitten und Nachfragen nicht vorgesehen . Ausreisen nach Mexico, Canada oder die Karibik zählen nicht als Ausreisen - also entweder zurück nach Deutschland ( !) oder Kurzurlaub in Island oder Dubai mit Last Minute und wieder zurück .

 Das wären die Optionen, wenn ich es nicht in den verbleibenden 2 Monaten schaffe , die Strecke zu fahren. Will heissen , ich bin insgesamt am Ende mit 17 d Verspätung losgefahren ( denn 17. habe ich aus technischen Gründne selbst noch dranhängen müssen -  Davon am Ende dieses Blogs für die technisch interessierten ein bißchen mehr) .

Um was es hier aber sehr viel mehr als um die Technik gehen soll, sind die Menschen und Begegnungen dieser Reise .

Dabei auch , aber eben auch nicht nur eine weitere Motorradabenteuer im Netz zu sein.

Euch mitzunehmen ohne eigene Heldengeschichten zu erzählen. Die Geschichten der Menschen mit Euch zu teilen, die mir und unserem Hilfsprojekt unterwegs begegnen. Diese Geschichten dort zu teilen, wo sie uns begegnen. Die Idee und den Spirit des Ride- of Smiles weiterzutragen. Diesen Geist hatte und hat immer noch das olympische Feuer . Ein Licht in die Welt zu tragen.
Aber eben auch dort hinzuschauen, wo es leuchtet.

Und wer hinschaut findet die Geschichten der Menschen. Dorthin reist der Ride-of-Smiles und freut sich über Eure Begleitung auf dem Weg.

Eine und vielleicht eine ganz besonders normale Geschichte ist die meiner Freunde Jenny und Joe Rosenberg aus Long Island und ihrer Familie.  WIr waren uns 2008 in Alaska begegnet, als Hombre und ich auf unseren beiden 650er Dakars West -Ost um die Welt fuhren ( mehr dazu unter www.ride-of-change-2008.de) . Wie Joe es mir dieserTage gesagt hat : "Wärt ihr keine Biker gewesen , hätten wir Euch vermutlich nicht getroffen".

Wir haben uns nicht nur damals in New York wiedergetroffen. Zusammen mit ihrer Tochter haben wir 2010 das KZ Dachau besucht. Es war die Suche nach der eigenen  Geschichte der jüdischen Familie von Joe. Verheiratet  mit einer amerikanischen Christin und befreundet mit einem deutschen Biker. So normal, dass wir am nächsten Tag das absolute bayerische Kontrastprogramm mit dem Postkartenbesuch von Neuschwanstein genauso intensiv und freudvoll erfahren haben, wie das Elend, das Menschen Menschen im zweiten Weltkrieg angetan haben.

Eben diese Familie wollte ich für 3 Tage in New York besuchen. Das aus diesen Tagen 3 Wochen werden würden, konnte niemand wissen. Die Herzlichkeit, mit der mich diese Familie aufgenomemn hat als klar wurde , dass das ganze bis zu 4 Wochen dauern kann, ist mit nichts zu beschreiben- außer viielleicht einem gelebten Glauben . Nicht reden, lamentieren, besserwissen . Nicht herabschauen auf andere Religionen. Hautfarben, Herkunft . Einkommen. Oder was auch immer .

Einfach Nächstenliebe im besten Sinne des Wortes. Das Wort Danke wirkt hier klein- aus der Tiefe eines Bikerherzens wird es dafür niemals enden . Es gibt keinen schöneren Begriff für diese Danke, als das "SHALOM" an der Tür zu ihrem Haus - dieses SHALOM sage ich Euch meine Freunde.

Bei allem, was sie mir gutes getan haben , habe ich versucht , etwas zu finden, was Ihnen eine wahre Freude macht ( neben den mitgebrachten kleinen Aufmerksamkeiten) Da sie in Tagen zuvor eine neue Gasleitung um Ihr Haus bekommen hatten, standen rund 90 Meter tief ausgegrabener Garten und Rasenfläche bereit, um insbesondere Jenny eine Freude zu machen, Das ganze auf extrem steinigem Untergrund ( Long Island ist ehemaliges Gletscherrückzugsgebiet ) und sehr beschwerlich,  habe ich 3 Tage lang alles ausgegraben, gefiltert, schubkarren und - kubikmeterweise Steine von Mutterboden getrennt,  das ganze planiert, wieder eingegraben, die Rasenflächen zurückgepflanzt , gewässert, belüftet , wieder gewässert - und am Ende nochmal , aber auch alle Steine rausgezogen und einen richtig schönen Garten für Jenny gemacht. Als sie nach 3 Tagen aus Florida zurückkam , der neue Gasbrenner ( Buderus aus D by the way) installiert war  und Ihr Garten wieder grün war , war es echte Freude .
Dann eben den Biker zum Gärtner gemacht - wenn schon kein Bock zum Fahren da war :-)

Dazwischen dachte ich mir irgendwann : Wie herrlich normal kann diese Welt sein, wenn ein deutscher Biker im Garten eines jüdischen Rechtsanwalts in New York aushilft - und genau das das normalste der Welt ist.

Meine Zeit mit Jenny und Joe war aus vielen Gründen eine sehr besondere. Auch weil Joe mir ein ganzes Wochenende lang "sein " New York gezeigt hat . Abseits vom Times Square, der Wall Street , dem Central Park oder dem Museum of Modern Art . Die alle ihre Faszination haben, der ich schon vor langer Zeit in Bezug auf New York erlegen bin.

Joes New York ging quer durch alle "Neighbourhoods", von African American zu Hispanic, von hochorthodoxen jüdischen Vierteln zurück in die Bronx, von Chinatown zu den Stränden und der Natur in Long Island, vom Rolling-Rollercoaster-Achterbahn-Sonntagsspaß in Coney Island mit dem traditionellsten aller Fastfoodläden "Nathans", der seine "Frankfurter" und Hotdogs seit 1916 an den Mann und die Frau ( und auf ihre Rippen) bringt. Bis hin zum "NAMI Charity Run" für die psychisch Kranken in den USA.

Genau hier entstehen die Begegnungen, die es in dieser Form vielleicht nur einmal auf der Welt in New York City geben kann. Hunderte, vielleicht einige tausend Menschen sind auf den Beinen , um auf die Situation der psychisch erkrankten Amerikaner aufmerksam zu machen. Menschen ohne Lobby am Rande einer Gesellschaft, die ihre Schwachen sehr viel weniger schützt ,als es sein sollte.

Die ersten Frühlingsstrahlen der Sonne  lassen die Farben und die Gesichter der Menschen strahlen. Bands spielen entlang des Boardwalks, der Seewind lässt weiter aufwärts Trommler hören. Mütter haben ihren Kinder große Aufkleber auf Jacken und Sweatshirts geklebt, viele Gruppen sind aus dem ganzen Bundesstaat mit Transparenten angereist. Eine lebendige, friedvolle Demonstration der Nächstenliebe. Mehr zu NAMI findet ihr hier :



Die Bilder zum NAMI-WALK gibt es hier



Asl ich gerade dabei bin, einige Aufnahmen zu machen, tippt mir eine lachende Frau auf die Schulter, und fragt mich, ob ich ein Bild ihrer Gruppe machen könnte. Klar mache ich das sehr gerne.

So kommen wir in ein Gespräch, das wie nichts anders zeigt, welche tödlichen Auswirkungen es haben kann, wenn wir Menschen in ihrer Erkarnkung nicht erkennen - und die Gesellschaft keine Infrastruktur hat , um hier zu helfen. Das Barack Obamas sehr notwendige Gesundheitsreform seit Jahren  politisch von der Opposition blockiert wird, ist ein anderes Thema - und doch auch Teil der Geschichte von Calvin Peters.

Calvin Peters wird im Dezember 2014 von einem Polizeioffizier in einer Synagoge in New York City erschossen. Vor nicht einmal 6 Monaten.

Nachder er zuvor eine orthodoxen jüdischen Mitbürger mit einem Messer angegriffen und verletzt hatte. Nachdem ihn viele Menschen und die Polizei aufgefordert hatten , sein Messer wegzulegen. Er war ansonsten unbewaffnet. Er legte nach einiger Zeit das Messer nieder. Diese Szenen werden
auf Video von wem auch immer gefilmt.

Als der Officer ihn festnehmen will, verliert das Video den Kontakt zu den handelnden Personen. Nach wenigen Sekunden nicht sichtbarer Handlungen fallen Schüsse . Calvin Peters stirbt am Ort des Geschehens.

Alles das erzählt mir seine Familie. Sein 8 und sein 16 jähriger Sohn, seine Frau , sein Neffe, sein Bruder, seine Schwägerin. Sie sind ohne Vorwurf oder Anklage. Gekommen, um der Welt zu zeigen, daß ihr Vater psychisch erkrankt war an einer sogenanten bipolaren Störung. Er hatte seine Medikamente nicht genommen. Stattdessen Marihuana geraucht. Ein akuter Schub seiner Erkrankung hatte die Attacke in der Synagoge vermutlich ausgelöst.

Das Video kann nicht klären , was wirklich passiert ist. Colin Peters war bei allem schrecklichen was passiert ist, für seie Famileie und seine beiden Jungs ein liebender und fürsorglicher Vater. Der begnadete junge Fußballer großgezogen und ihnen Werte gegeben hat. Ein Vater, den sie vor 6 Monaten mit aller Tragik verloren haben.Auch für den Beamten,der ihn erschiessen musste.

Die Begegnung mit diesen Menschen ist unglaublich intensiv . Sie wollen , dass wir hinschauen. Es gibt sehr verstörende Videos zu diesen Vorfällen. Ich möchte sie nicht jedem empfehlen. Aber auch das ist das Leben in New York City. Kein Vorwurf an die Polizei an dieser Stelle. Die Jungs machen definitiv einen der schwierigsten und gefährlichsten Jobs der Welt.



Einer der Jungs von Colin Peters spielt beim Red Bull Team in NYC demnächst in der Profimannschaft. Der jüngere wurde von spanischen Talentscouts entdeckt und geht dieses Jahr ins Fußballinternat nach Spanien. Nicht nur der Fussballer in mir wünscht sich , das wir ihre Namen einmal ganz groß in den Stadien dieser Welt lesen. Vielleicht schaut Colin Peters von irgendwo mit viel Stolz auf seine Jungs zu.

You never walk alone !

Die Welt dreht sich weiter . New York dreht sich noch ein bißchen schneller als der Rest.

Schon am nächsten Tag begegnen Joe und ich ShaKimono und GipsySun. Künstler ohne Wohnsitz. Sie malt sich ihre Depressionen von der Seele und aus dem Herzen. Er begleitet sie mit seiner Musik. Beide versuchen , die Welt als großes, friedliches Dorf zu erleben und zu gestalten. Von ihrer Kunst zu leben ohne sich an anderen zu bereichern. Zwei junge Menschen voller Hoffnung und posivem Spirit. Bunt wie das Leben. Voller Farben. Wer mehr über ShaKiimonos Kunst herausfinden möchte, als dies und die Bilder in der Galerie zeigen können, kann das gerne hier tun


Die Bildergalerien aus NYC  und von Coney Island findet ihr hier


Geschichten erzählen aber manchmal nicht nur die Menschen selbst.

Das Fire Island Lighthouse würde ganze Bücher mit den Geschichten der Menschen füllen können, denen es das erste Licht auf dem Weg in die Hoffnung war. Die Hoffnung auf ein besseres Leben , die die Menschen in Europa damals genauso per Schiff aus ihrer Heimat vertrieben hat. wie wir es heute in den dramatischen Fluchten aus Bürgerkrieg, Gewalt und Missbrauch bei den Bootsflüchtlingen aus Syrien und Afrika erleben.

Mit einem großen Unterschied. Die Menschen in der Mitte des 19. Jahrhunderts verließen ihre Heimat  sicher nicht weniger verzweifelt und unsicher. Aber sie wurden mit der Chance empfangen, sich durch ehrliche und harte Arbeit ein neues Leben aufzubauen. Und mit dem Licht aus dem Leuchtturm des Fire Island Lighthouse.

Sie wurden nicht erst durch Schlepper auf hoher See ausgesetzt und dann von den Regierungen des so integrationsfreudigen Europas dabei beobachtet, wie Frauen und Kinder jämmerlich im Mittelmeer ertrinken müssen- weil Europa angeblich kein Geld für die Rettung dieser Menschen hat ??
Deutschland allein lädt sich angeblich für 400 Millionen €uro Klingeltöne auf Handys - und spritzt sich für 300 Millionen € die schönste Falten des Älterwerden mit dem Nervengift Botox aus dem Gesicht der ewigen Jugend .

Aufwachen Europa !

Amerika hat uns gezeigt, wie man aus Einwanderung eine der größten Erfolgsgeschichten dieser Welt  schreibt. Sicher keine perfekte. Wenn man diesen Menschen eine Chance gibt zu zeigen, wer sie sind. Wer es nicht glauben mag, sei herzlich nach New York eingeladen. Diese Stadt lebt Einwanderung seit ihrer Gründung . Mit eine Geist von Toleranz , der bei allen Problemen auch dieser Stadt an jeder Ecke greifbar ist. The big apple :-)

New York hätte endlos viele Geschichten zu erzählen. Ein faszinierender Start für ein Hilfsprojekt und eine Reise , die nicht das Motorrad, sondern die Menschen in ihrem Mittelpunkt hat.
Und doch auch die Geschichten schreiben wird, die nur durch das Motorrad erst entstehen.

Wenn es rausgeht , auf die Strasse und der Horizont das Ziel wird.

Eine letzte Geschichte am Horizont wird diesen Blog abschließen, bevor es auf nach Norden geht.
Und das nicht, weil der Sohn meiner Freunde Jack Rosenberg an diesem Projekt mitarbeitet.

Es ist die Geschichte von Gabe. Der über NAcht erfährt, dass er nicht wie erwatret mit zwanzig Jahren an einer Muskeldystrophie sterben wird .Und der mittlerweile einen Uniabschuss in Psychologie hat

Ganz einfach weil  es eine Geschichte ist, die mein Herz tief berührt hat. Übers Kämpfen. Glauben. Hoffnung. Und was ein Mensch erreichen kann, den alle aufgegeben hatten. With a little help from his friends.

Junge Menschen in den USA haben sich aufgemacht,  uns allen die Geschichte von GOBE zu erzählen- Ein körperlich schwerst behinderter junger Mensch , dem eine Lebenserwartung von gerade mal zwanzig Jhren vorhergesagt wird. Sein ganzes Leben ist darauf angelegt. Als er plötzlich von einem Tag auf den anderen erfährt, dass seine Diagnose zu korrigieren ist - und er wohl über 50 Jahre zu leben hat.

Was daraus wird ist eine atemberaubende Geschichte, die das Team um Luke Terell  in einem über einjährigen Dokumentarfilm zusammenträgt. Den Trailer zum Film findet ihr hier: .

https://m.youtube.com/watch?v=PmKCgfCw1NA

Das Projekt läuft noch und finanziert sich durch Sopendne selbst- Auch wer nicht allles auf Englisch verstehen kann- die Bilder sprechen für sich . Mir haben sich auch damit neuie Horizonte geöffnet. Auch mal  ganz ohne Motorrad.


Kleine  und erste Anmerkung zur Begleittechnik mit der Frage Netbook oder Tablet :

Da am Tag vor der Abfahrt mein Tablet meinte , keine Befehle auf der Homepage mehr umsetzen zu wollen ) in höchster Eile dann ein Netbook bei Bestbuy besorgt, Windows 8 "lieben" gelernt und am Morgen der Abfahrt festgestellt, dass das Tablet wieder funktioniert.  Welcome to the "APP-World" - dazu wird es am Ende der USA mal eine erste Bewertung auf der Homepage geben- Stand jetzt würde ich eines der SD-Flashkartennetbooks von ASUS oder HP empfehlen - wenn ihr das mit Windows 7! bekommt. Android ist eine eigene Welt - in der man eine App herunterlädt , um das Problem einer anderen App zu lösen- es hat mich fast eine Woche gekostet - das so hinzukriegen, dass ich mit vielen Umwegen meine SD -Karten aus den Kameras sichern und bearbeiten kann.

Langer Rede kurzer Sinn - ich bin mit der ursprünglichen Kombi Handy/ Tablet und externer Tastatur unterwegs. Achtung ab der Android KITKAT Version gibt es hier erhebliche Schwierigkeiten, auf den externen Speicher zu schreiben. Das wird mit Android 5 angeblich wieder gelöst - aber nur, wenn es ein Update für das Gerät gibt. Das Gerät zu rooten ist ein anderer Weg. Für Profis durchaus denkbar, für mich hier unterwegs keine Option.

Verzeiht mir also bitte den einen oder anderen Schreibfehler hier - der Blog entsteht meistens abends, nach einem langen Tag auf dem Moped. Oft im Zelt , oder irgendwo an einer Stelle, wo es kurzes WLAN gibt .Die Tastaur ist klein und ich habe Handschuhgröße 12 - kann allso problemlos mit einem Finger 3 Buchstaben erwischen . Wer Schreibfehler findet und sich drüber aufregt, darf sie  für 10 € Spene behalten :-)

Am Ende eines langen 3 Wochen-Blogs - geht es jetzt endlich raus auf die Strassen dieser Welt. Zu den Menschen, Ihren Geschichten. Und zu neuen Horizonten.

Und um eines nicht zu vergessen : Unser gemeinsames Ziel ist es , Spenden einzusammeln.
Es ist schön, die Begeisterung für diese Idee zu spüren und entgegen zu nehmen.

Aber erst die eigenen Spenden machen den Unterschied. Egal wie groß oder klein.

Deswegen - bitte das Spenden nicht vergessen ;-

Bis bald aus dem hohen Norden in Nova Scotia

BABA Henning
top
Submenu