Camera & Video
There will be no new camera in my luggage, but my old one, a Pentax K200 D, with it's 12-24 wide angle and travelzoom 21-200mm, proven to be a good companion  through all the extremes of the world . Regardless of the pixel mania this camera is reliable part of our equipment since  the Ride-of-Change 2008.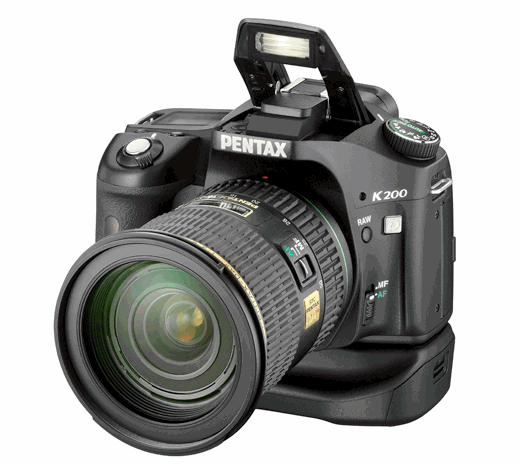 Robust technology photographically still on the required state of the time,  extremely robust and a water - as well as damp proof enclosure, a wide-angle monitor with 160-degree viewing angle, and in addition a possible operation with 4 AA batteries. Years of positive experience with the Pentax do not give rise to a new machine.

There's nothing left to say,  if two camera bodies take the same hardships as the two drivers on a 50000 km tour. Off they go into heat, dirt, dust, potholes, mud and corrugated roads, taking as well as   the driver diverse mud baths and they still focus well over 20,000 times with the most sensitive electronics, also they illuminate, self-trigger, flash. They defy the gasoline showers at Siberian and Mongolian "filling stations", overcome various crashes thanks to excellent mechanics and withstand monsoon rainfall thanks to countless seals.

The reason to buy the Pentax was, next to stability with (in the year 2007) luxurious features and image stabilization built into the body, the possibility to use the camera with standard AA batteries. With a set of lithium batteries in combined mode it just continues shooting - no problem to take 1200 pictures. In conclusion, the Pentax K-200 D has all of our expectations exceeded.
Shutter speeds up to 1 / 15s out off  the hands succeed regularly.

Higher pixel services in reality are less important as various  magazines  would like you to believe.
12-14 mm wide-angle (Attention needs, due to vignetting a truly Ultra Shallow Polarizer) and 21-200 mm zoom Pentax trip in combination were also solid and quality travel companions. Desirable for the future would certainly be a folding screen. These days quite useful video functions are moving into the DSLR. Anyhow, who photographs and does  not want to just take pictures, will still find in the Pentax K 200 D a highly robust and ambitious travel companion. Digital technology may build some things considerably smaller - the physical laws of optics didn't change.
top