RIDE OF SMILES - THE PROJECT
Update September 30th 2016


The Ride-of-Smiles made it back to the safe haven in Germany after 56.000 GS-Kilometers - and now comes back from celebrating with 60 supporting friends and family from the Ride-of-Smiles-Party at 1550 m altitud in the Bavarian Alps.
Friends joining us from Ucraine to Switzerland. From Berlin to Hamburg , from east to west and north to south in Germany. What a venue, what a crowd, what a band .

And best of all we even bring back more donations from the mountains - including 915 € from our friend Joergs incredible MZ-Adventure all over the roads of Germany and 1500 € all together.



 THANK YOU ALL FOR INCREDIBLE 49157 € OF DONATIONS UP TO NOW !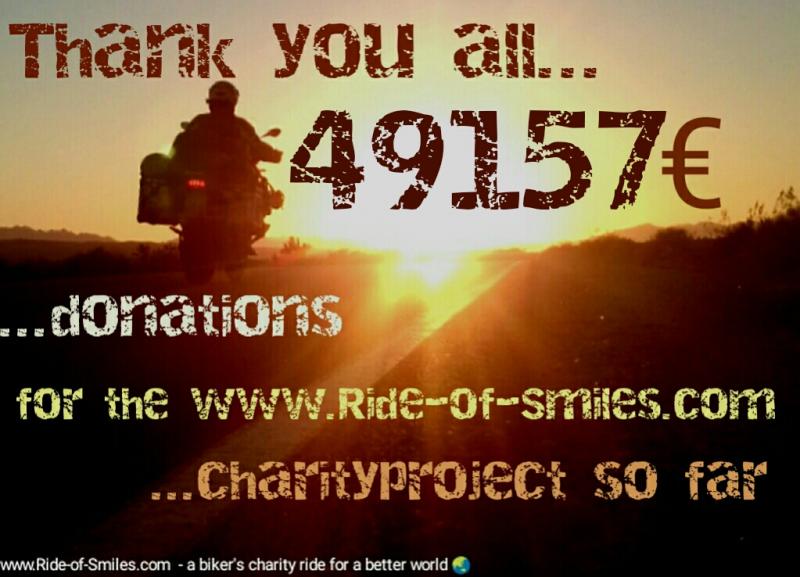 There ain´t no THANK YOU big enough for everybody who suppported and helped along all the tough riding times out on the road.

It was your support and your smiles who kept the charityproject going when times got rough.
And it was my pleasure  now to bring that smile all back to you - and to celebrate what we have achieved all together - as much as sharing  some of  all the intense and quite often extreme experiences between snow, bushfires, deserts and hurricanes from Canada to the Australian outback - at least with those of you I could invite  to the Ride-of-Smiles-Party from the 23- 25 th of September.


Eeverybody who helped along - even if you could not be with us for long distance travelling or simply time reasons. You were with us for all you did to help others !!


It was an incredibly intense experience to have shared all this with you and the world - far away from only being easy - but intense and magic at all times




Thank you all to those who know they deserve it  from the bottom of my heart

BABA

Be the change, you want to see in this world 

Mahatma Gandhi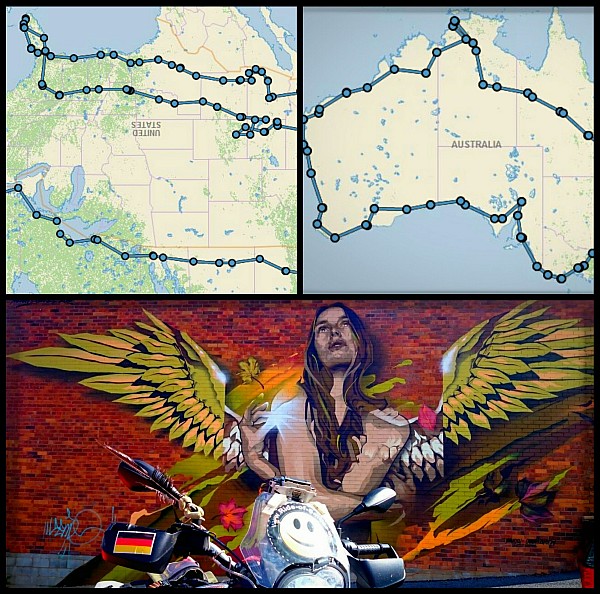 For technical limitation in Google Maps we cannot display and load the whole GPS-Tarck here, but have to limit it to the last week.
To see all progress please refer to this website and allow some loading time please
Ride-of-Smiles goes youtube :-)
2015-06-01
The music on these videos comes from our friends and supporting band Radio Haze / get more of these guys great music 

as well from our wonderful friend Rick the Motornomad


Follow the ride here and at www.ride-of-smiles.com or www.ride-of-smiles.de for German version - get the latest GPS-Tracking displayed as much as the latest stories out from the bikers roads ...

Enjoy the ride with us - and jump in for your personal donation - to make earth a better place for everyone out here -

Let´s share our smiles - and make a difference :-)

Find Ride-of-Smiles at youtube here and enjoy




....fahrt einfach ganz entspannt mit und genießt den Ride-of-Smiles unterwegs... ohne Fliegenschwärme,  35 Grad C Hitze oder 2 Grad Celsius mit Schnee innerhalb von 2 Tagen, ohne 5  Gewitterstürme an einem Tag.. dafür mit unserem ältesten Fans Harvey in Florida mit 99 Jahren in Florida, Collin mit 99 Jahren in Nova Scotia, Edie mit fast 90 Jahren auf ihrem Weg von Canada nach Florida - allein mit Laptop, Facebook und auf der Adventure ...oder unserem kleinsten Fan KJackson in Houlton Maine - 5 Jahre und mit Stützrädern auf der Enduro unterwegs... und das ist nur der Anfang von unglaublich vielen Geschichten, die noch kommen...

..das mir diese Menschen unterwgs inzwischen über 208 € Spenden in die Hand gedrückt haben, sagt mehr als viele Worte :-) Unsere Spenden werden vielen Menschen ein Lachen schenken...

Hier geht es zum Youtubekanal - viel Spaß

≈
top
Submenu