RIDE OF SMILES - THE PROJECT
Update September 30th 2016


The Ride-of-Smiles made it back to the safe haven in Germany after 56.000 GS-Kilometers - and now comes back from celebrating with 60 supporting friends and family from the Ride-of-Smiles-Party at 1550 m altitud in the Bavarian Alps.
Friends joining us from Ucraine to Switzerland. From Berlin to Hamburg , from east to west and north to south in Germany. What a venue, what a crowd, what a band .

And best of all we even bring back more donations from the mountains - including 915 € from our friend Joergs incredible MZ-Adventure all over the roads of Germany and 1500 € all together.



 THANK YOU ALL FOR INCREDIBLE 49157 € OF DONATIONS UP TO NOW !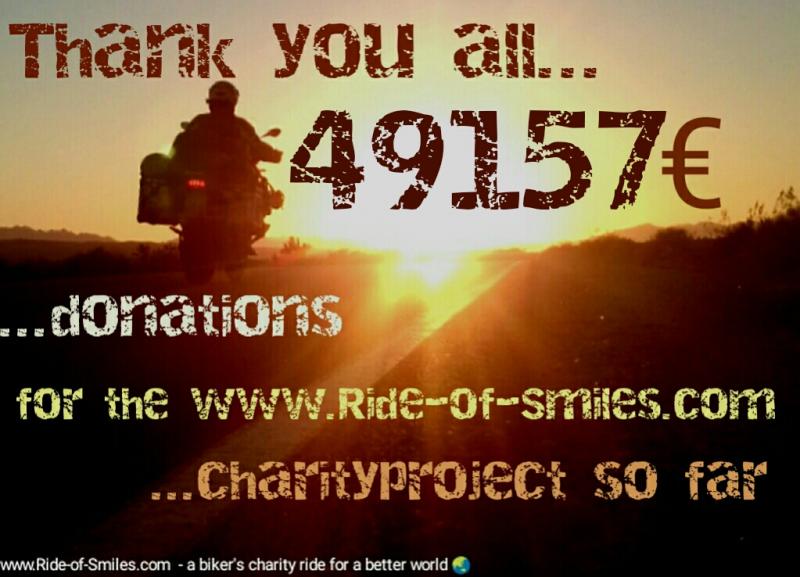 There ain´t no THANK YOU big enough for everybody who suppported and helped along all the tough riding times out on the road.

It was your support and your smiles who kept the charityproject going when times got rough.
And it was my pleasure  now to bring that smile all back to you - and to celebrate what we have achieved all together - as much as sharing  some of  all the intense and quite often extreme experiences between snow, bushfires, deserts and hurricanes from Canada to the Australian outback - at least with those of you I could invite  to the Ride-of-Smiles-Party from the 23- 25 th of September.


Eeverybody who helped along - even if you could not be with us for long distance travelling or simply time reasons. You were with us for all you did to help others !!


It was an incredibly intense experience to have shared all this with you and the world - far away from only being easy - but intense and magic at all times




Thank you all to those who know they deserve it  from the bottom of my heart

BABA

Be the change, you want to see in this world 

Mahatma Gandhi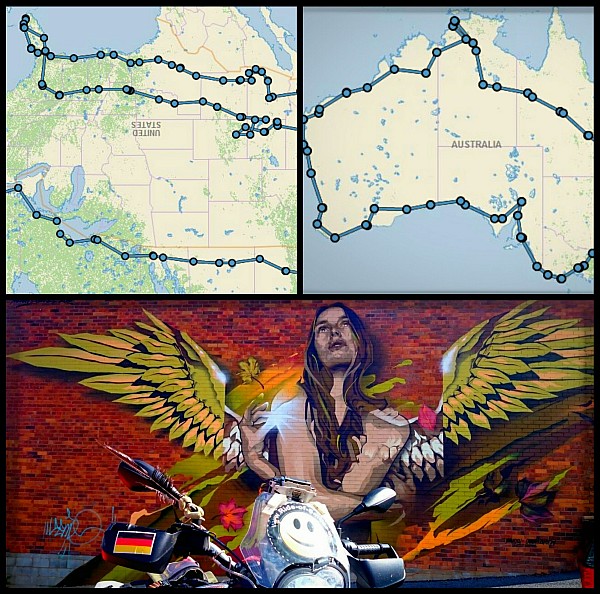 For technical limitation in Google Maps we cannot display and load the whole GPS-Tarck here, but have to limit it to the last week.
To see all progress please refer to this website and allow some loading time please
15-05-2015 BMW send off in New York City - BMW Nordamerika verabschiedet den Ride-of-Smiles
2015-06-11
So when finally all papers were ready it was BMW Motorrad Northamerica, to invite the Ride-of Smiles with a wonderful surprise for a sendoff onto the next 50000 miles.

When I showed up there in the morning the team around Chris Duff would not only have printed out several Ride.of.Smiles Logo in postersize. They even had put out all sorts of BMW Motorcyles from the latest models up to the real classic vintagebikes of the 1930s.


All together with more than 30 staffmembers and bikers alike they woul then take the GS Adventure and me in their middle and forming a huge Smiley all around .

What a start off into Northamerica and Canada - thank you all for your good wishes along with the Ride-of-Smiles-Project and your support on the road if needed.

Find more on that at BMW Motorrad Northamerica





Nachdem dann irgendwann der ganze Papierberg für den Impost abgearbeitet war, hatte BMW Motorrad Nordamerika mich zusammen mit der Adventure zu einer kleinen Abschiedsfeier eingeladen. Was das Team um Chris Duff dabei auf die Beine gestellt hat, hat mir dann doch trotz aller Zollschwierigkeiten ein großes Lachen ins Gesicht gezaubert.

Über 30 Mitarbeiter und Biker hatten nicht nur mehrere Ride-of-Smiles-Logos von der Homepage ausgedruckt. Sie hatten ausserdem noch vom aktuellsten S1000 RR Modell bis zum 30er Jahre Boxer alle möglichen Motorräder aufgeboten - um am Ende eine Riesensmiley um die Adventure für den Ride-of-Smiles zu formen.

Was für eine wunderbare kleine Überraschung am Anfang unseres Spendenprojekts- professsionell organisiert und mit vilen guten Wünschen für unterwegs.

Vielen Dank an das BMW Nordamerika-Team für den tollen Empfang und die Unterstützung unterwegs,

Mehr Infos dazu gibt es bei BMW Motorrad selbst



top
Submenu